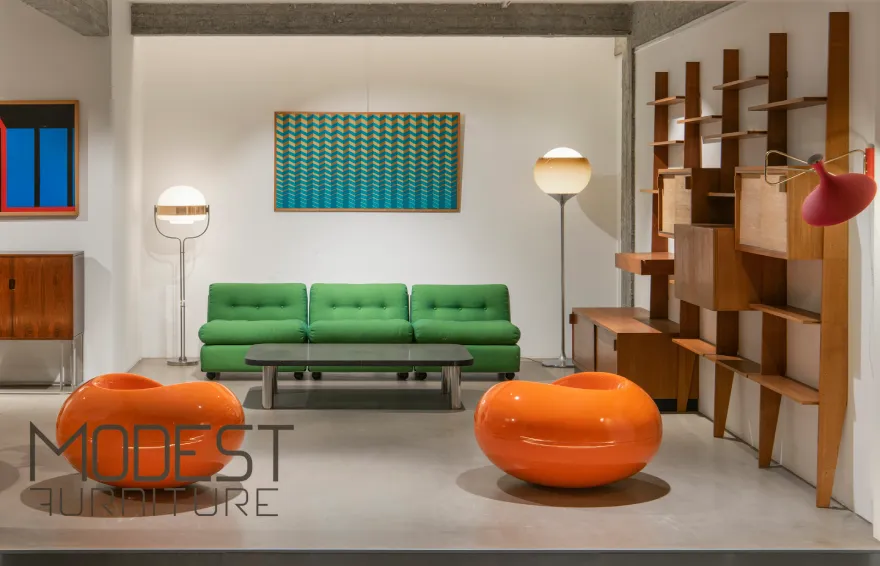 SPECIALISING IN TWENTIETH CENTURY DESIGN, MODEST FURNITURE IS JUST THE RIGHT PLACE TO FIND VINTAGE COLLECTABLES. WE OFFER A WIDE RANGE OF MID-CENTURY FURNITURE, ILLUMINATION AND DECORATION, WITH A SELECTION OF FINE ART FROM THE PERIOD AND RARELY COMBINED WITH ANTIQUES.

Founded in 2011, Modest Furniture is more than just an online gallery. Craftsmanship and service are at the heart of the company. The founder, Vincent Lemson, inherited the hands of his tailor-grandfather and learned the skills of a restorer and upholsterer from a young age. 

The original showroom was housed in 'De Zonnewijzer (1955)', a listed building by Leon Stynen, on a busy thoroughfare towards the city centre. Later Modest moved to a location on the same street in 2017. In addition to a 175m² showroom, this location houses the office and the newest addition is the upholstery workshop and storage space.

Our motivation is to preserve aesthetically pleasing, historically relevant or simply interesting mid-century design and pass it on to the next generation. Every link in the chain, from sourcing to delivery, is carefully managed by our hands-on team. We source our items mainly from Europe, travelling from East to West, from Scandinavia to Italy and back. Each piece receives the treatment it needs: a damp cloth if time has been gentle, a full restoration if time has been rough. We try to find the right balance between preserving the patina and restoring functionality for a new life and purpose.

Not only do we care for our collection, but also for our customers. Trading high quality pieces with a rich history is not just about buying and selling. We are happy to talk to you through any of our media, but prefer the personal touch and welcome you to our showroom, where dimensions and materials, colour and texture can be experienced to the fullest.

Experience is key.