Low Cedar Chair - Nuristan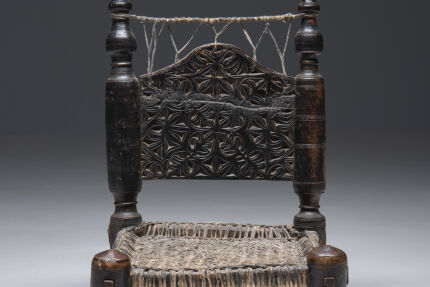 description
A unique handmade low cedar chair, made in the late 19th century / early 20th century in Nuristan, an Eastern region Afghanistan. Woodcarving has been very important in this region's history.  It is made from a hand-carved walnut wood frame and a woven rush seat. The backrest has been previously restored. 
This rare piece remains in original vintage condition with heavy traces of wear normal for its age.
"... Woodcarving played an integral role in the delineation of Nuristan's strictly hierarchical, class-based society. The producers of the craft came from the 'Bari', a class of people not regarded as members of society. As well as being woodworkers, the 'Bari' were more generally labourers, involved in building bridges and water mills, or acting as stone carvers and potters. Deemed to be impure and racially separate from the rest of society, the 'Bari' were, prior to the region's Islamization, treated as slaves. As a result there is no genealogical record of the exceptionally skilled woodcarvers who transmitted the knowledge from master (ustad) to student (shagerd), generation after generation.
In the past Nuristani woodcarving held significant symbolic meaning and essentially acted as a tool of social signaling to identify acts of greatness, specifically hunting and feast-giving. The 'Atrozhen', or class of freemen, who made up about 90% of society, were allowed to decorate - or, rather, have the lower class 'Bari' decorate - their houses with the symbols. However, within the 'Atrozhen' the privilege was tightly controlled. A community council of Big Men effectively held the exclusive privilege of controlling social movement. The social positions and titles that people were given were obtained only upon this council's approval.
The designs of the Nuristani style of woodwork are socially symbolic, usually concerning the owners' bravery or ability to feed others. The motifs would be carved onto door frames, chairs, and the pillars inside and outside their houses' main room (āmā). Once again there were social restrictions determining who could have the motifs on their houses. The 'Bari' were certainly forbidden from employing their talent on their own humble abodes (these would be situated further down the valley and thus in the frontline of any outsiders' attack.)"
Source : TurquoiseMountain - NURISTAN: SHEDDING LIGHT ON AN INACCESSIBLE CRAFT
specifications
country

Afghanistan

period

1910s

condition

good

width

47 cm

depth

48 cm

height

71 cm

price

950€
request