Constructivist Sculpture - Rien Goené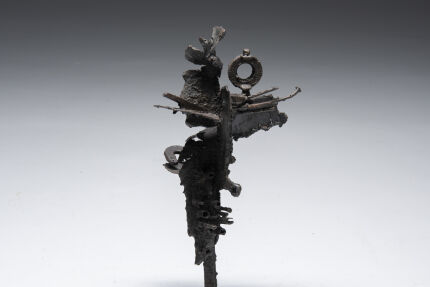 description
A Unique freestanding constructivist sculpture made in the 1960's by Dutch born painter/sculptor Rien Goené (1929 - 2013).  The details on this scrap-metal made work are endless. Signature present.

Rien Goené (1929-2013) was a Dutch sculptor and painter. Goené was educated from 1947 at the Artibus art academy in Utrecht. At the academy he got modeling by Piet Jongbloed, monumental art by Stokhof de Jong and painting by Mar Diemèl. Goené is one of the first Dutch artists to make iron plastics from scrap.
Inspired by the Cobra movement, founded in 1948, Goené worked experimentally and expressively. His sculptures, usually designed in an abstract way, were made from scrap and bronze. As a painter he made colorful oil paintings, both abstract and figurative (landscapes and women), he was inspired by Henri Matisse and Picasso, among others.
His work is in various museums, public and private collections in the Netherlands, Sweden, Switzerland and America and he has carried out monumental commissions in wood, iron and bronze.
​​​​​​​Source: Wikipedia.
specifications
This item is sold.
designer

Rien Goené

country

Netherlands

period

1960s

condition

very good

width

30 cm

depth

25 cm

height

60 cm
request